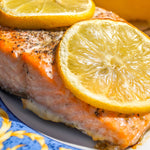 Ingredients
1 1/2 lb salmon filet
2 Tbsp fresh parsley chopped
2 Tbsp light olive oil not extra virgin
2 Tbsp fresh lemon juice
3 garlic cloves pressed
1/2 Tbsp Dijon mustard
1/2 tsp salt
1/8 tsp black pepper
1/2 Lemon sliced into 4 rings
Instructions
Preheat oven to 450˚F and line a rimmed baking sheet with foil. Arrange them on a lined baking sheet, skin-side-down.
In a small bowl, combine: 2 Tbsp parsley, 2-3 pressed cloves garlic, 2 Tbsp oil and 2 Tbsp lemon juice, 1/2 Tbsp Dijon, 1/2 tsp salt, and 1/8 tsp pepper.
Generously spread the marinade over the top and sides of the salmon then top each piece with a slice of lemon.
Bake at 450°F for 12-15 min or until just cooked through and flaky. Don't over-cook.
Recipe Notes
Air Fryer Salmon: place salmon pieces on the wire basket, spread marinade over the top and air fry at 450˚F for 6-7 minutes or just until cooked through.