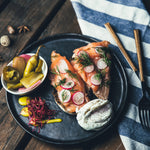 INGREDIENTS
For the Herbed Sour Cream:
⅓ cup sour cream
1 teaspoon finely chopped dill
1 teaspoon finely chopped flat-leaf parsley
1 teaspoon fresh lemon juice
Salt, to taste
For the Smoked Salmon Smorrebrod:
Herbed sour cream
4 slices Danish rye bread
8 ounces smoked salmon, thinly sliced
4 radishes, thinly sliced
Zest of 1 lemon
Coarse black pepper, to taste
Dill sprigs, for garnish
Parsley leaves, for garnish
DIRECTIONS
1. Make the herbed sour cream: In a small bowl, mix together all of the ingredients. Season with salt and set aside.
2. Make the smoked salmon smørrebrød: Spread some herbed sour cream on each slice of bread. Evenly arrange the salmon slices on each slice of bread and top with radishes, lemon zest and black pepper. Garnish with dill sprigs and parsley leaves. Serve.